The Horizons team features many influential Twitter users. This curates a wealth of insights, knowledge, and information about transformation in health and care from other thought leaders across the world. (Tip: to read an article or watch a video mentioned in a tweet, click on the blue text. To view the original tweet, click on the image).
#SolvingTogether
#SolvingTogether is an approach that captures, assesses and tests learning and ideas - and will initially focus on #ElectiveCare This #sketchnote is based on a drawing by @kbarnett2019 during this week's launch event, re-created by @LeighAKendall . Do join us on the #SolvingTogether platform to share your ideas for reducing the current waiting times for elective care.
Brilliant to see @HorizonsNHS colleague @BevMatthewsRN inspiring people to get involved with #SolvingTogether during a staff briefing.
Here's three of the six challenges. Find out about all the challenges and get involved by clicking here. All are welcome!
What can we do to help patients to "flow" through the system, moving them effectively through care pathways while improving coordination of care, patient safety &health outcomes? The coordination of elective care challenge is part of #SolvingTogether! Click here to get involved in #SolvingTogether now and share your thoughts!
How can we support theatre teams to make their best possible contribution to elective care, including treating more patients who are waiting in ways that are long-term sustainable? Building outstanding theatre teams is a #SolvingTogether challenge! Click here to share your ideas and to get involved in #SolvingTogether.
@HorizonsNHS colleague @KerryEMcGinty shared some love for @Scriberian's work that has been used for #SolvingTogether.
The Big Conversation - #ImprovingTogether
The NHS Big Conversation for Improvement is on 11th and 12th May 2022. It is free and open to all with some fantastic content. Come to as much or little of it as you can. Everyone is and can be an improver! Click here to book you place for the Big Conversation now!
It's great to see all of the nominations being submitted for teams and individuals being recognised for their contribution to health & care improvement! The deadline is Friday 8th April. Click here to access the form. Need help with your application? Please get in touch or email: nhsi.thebigconversation@nhs.net
Would you like to lead or co-lead your own virtual conversation on health & care improvement topics & questions that matter to you? Apply to lead or co-lead an Open Conversation! The deadline is Friday 8th April. Click here to access the form. Need help with your application? Please get in touch or email: nhsi.thebigconversation@nhs.net
The School for Change Agents
Do you work for the NHS or in social care in England? Did you know you can get FREE upgrade for the #S4CA thanks to a partnership we have with FutureLearn! The deadline for this is 17th April. Click here for more information.
If you haven't signed up to the School for Change Agents yet, you have until the 17th of April! Find out how to sign up and what to expect from the #S4CA in this blog by @Anisah_Majothi. Build your skills as a Change Agent now! Read the blog by clicking here.

Spread and Adoption
Read @DianeKetley's blog 'Introducing Systems Convening Practices into a Project Management Environment ' to learn about about the 3 lessons @MadiHoskin gained, these include:
Lesson One – 'A Road Map not a Project Plan'
Lesson Two – Relationships – 'Left Shift the Project Lifecycle to Give Space for Relationship Building'
Lesson Three – Celebrating – 'Celebrate The Activities and Contributions As You Progress Don't Just Wait Until The End Or Until The Outcomes'
Wellbeing
A brilliant video explanation of the downsides of empathy (tendency towards us/them divides, empathy fatigue and burnout) and how to build resilience and healthier responses to such situations (compassion practice) @ProfPaulGilbert.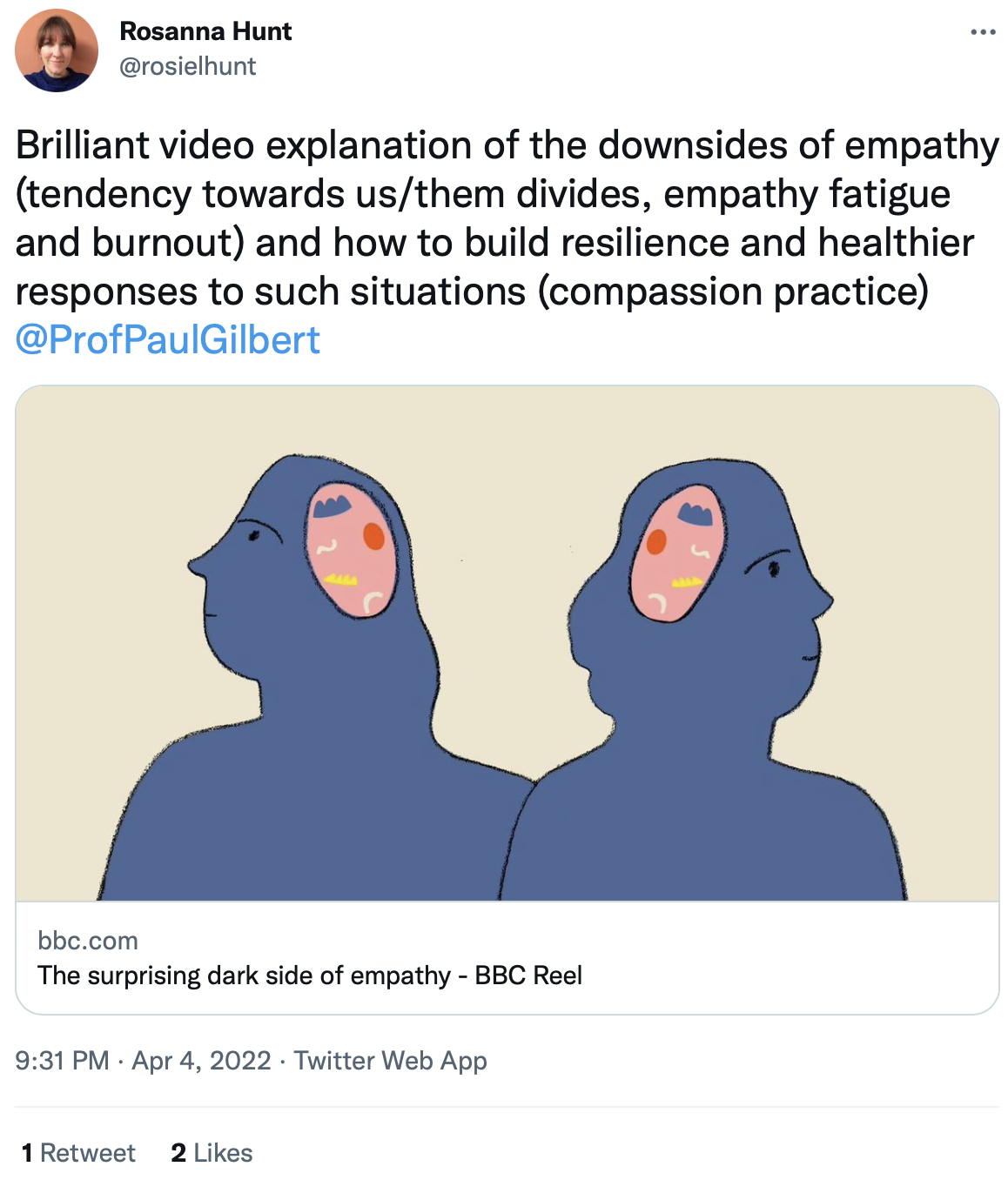 Improvement
How do we measure the impact of change? It's a minefield. There's a risk that we take an approach that's over simplistic, or doesn't gauge what really matters, or can't show a difference or misses the point. Some great advice and resources are linked here.
In a fearless organisation, people feel psychologically safe to challenge current thinking and practice, without fear of being criticised, shunned or ridiculed. It's tough to build a fearless organisation but people and performance levels flourish in them. Graphic by @AmyCEdmondson and @tnvora.
For change or improvement, what's the difference between knowledge and experience? Building knowledge of methods and approaches (via courses & experts) is crucial but is insufficient. It's only by doing, and learning from success (some) and failure (more) that we truly understand it. Picture via @WiemanEmile.

Development
@LeighAKendall and @Anisah_Majothi ran a Twitter masterclass on Wednesday. It was great to see some tweets from people who attended: here is one from @NinaJaspalCNP.
It was great to see that the session had sparked more conversations about Twitter .... on Twitter. If you would like to learn how to make the most out of you social media, check out this guide by @LeighAKendall and @Anisah_Majothi by clicking here.
We can learn much more from failed projects than successful projects. However, for this to happen, we have to build in (and value) the time for reflection, looking at the data and learning. If we don't do this, we keep failing for the same reasons, time after time. Art by @moina_abdul.
Want to build or improve your skills as a facilitator? Here is a super little eBook - the "Facilitator's Handbook" - by @JamiePett. It is full of practical advice and links to great resources... and it's free. Every leader should build these skills. Click here to access this resource.
Leadership
As leaders, you can never be certain you are on the right path until you take that step forward in a new direction. The well-trodden path will take you nowhere new. You can never fully control uncertainty, but we can learn to lead through it. For more insight read the @Digitaltonto article 'Leading through Uncertainty' by clicking here.
Leaders spend 85%+ of work time "collaborating" in meetings, emails etc. Much is not effective or efficient. We need to change the deeply-held wants, needs, expectations and fears about how we feel we need to "show up" for others each day. Click here to read the article 'Where We Go Wrong with Collaboration' from the Harvard Business Review for more information on this.