The Horizons team features many influential Twitter users. This curates a wealth of insights, knowledge, and information about transformation in health and care from other thought leaders across the world. (Tip: to read an article or watch a video mentioned in a tweet, click on the blue text. To view the original tweet, click on the image).
#SolvingTogether
You are warmly invited to a connect session for the launch of #SolvingTogether by Tim Ferris, Director of Transformation at NHS England and NHS Improvement, on Monday 4th April, 1pm to 2pm.
Click here for sign up details.
This week the team took part in a #SolvingTogether tweet chat hosted by @WeAHPs and @WeNurses with co-hosts @andypbennett79 and @BevMatthewsRN. Find out more about the chat by searching #SolvingTogether tweets.
What can we do to help our patients to "flow" through the system, moving them effectively through care pathways while improving coordination of care, patient safety, and health outcomes? The coordination of elective care challenge is part of #SolvingTogether. Click here to share your ideas, experiences and good practices on the #SolvingTogether platform.
With so many people waiting for planned care, we need to find ways to boost our capacity! Get involved in the the boosting capacity challenge on the #SolvingTogether platform and share your ideas to help reduce waiting times for elective care. Click here to go to the #SolvingTogether platform.
The Big Conversation
Have you booked your FREE Big Conversation place yet? It's taking place on Wednesday 11th May and Thursday 12th May.
Join people in interactive discussions about improvement
Share fresh insights on how to promote the improvement of health and care
Find out more about the Big Conversation and book your place by clicking here.
It's great to see so many people getting involved in The Big Conversation! Please spread the word.
Do make sure you nominate for a Big Conversation Award any individuals or teams who deserve recognition for their contribution to health and care improvement! Find out more here.
Would you like to lead or co-lead your own conversation on health & care improvement topics that matter to you? Apply to lead an Open Conversation! They will be held on day 2 of The Big Conversation (12 May). Find out more here.


The School for Change Agents
Learn how you can be more pirate and how to challenge power by joining @AlexandraBarke1 on the The School for Change Agents! If you haven't already, sign up to the #S4CA! Click here to find out more.
Join Mo on the School for Change Agents where she draws on her journey of change and shares ideas with you on how to create positive change. Sign up now here and join a fantastic global community of Change Agents!
Spread and adoption
Introducing systems convening practices into a project management environment is hard. Read @DianeKetley's blog about how @MadiHoskin has used this and what she has learnt.
Wellbeing
A large-scale study found happiness and optimism at work are strong predictors of job performance. Happy people perform best. Happiness grows through factors such as a sense of meaning, flexibility, interesting work and supportive leaders. Find out more on this by clicking here to read 'Top Performers Have a Superpower: Happiness' from the MIT Sloan.
It's usually advisable to have a plan, even if it doesn't quite work...


Lots of us get our best ideas when we are distracted. Focus is necessary to get things done, but those time management courses that teach us that focus creates high value time & non-focus leads to wasted time are missing a big trick. Great graphic by @moina_abdul.
Transformation and Change
We seek to build teams with diverse members hoping different experiences and ideas will mean better performance. Yet diverse teams often underperform as people from dissimilar backgrounds often clash. Diverse teams need psychological safety Read Research: To Excel, Diverse Teams Need Psychological Safety.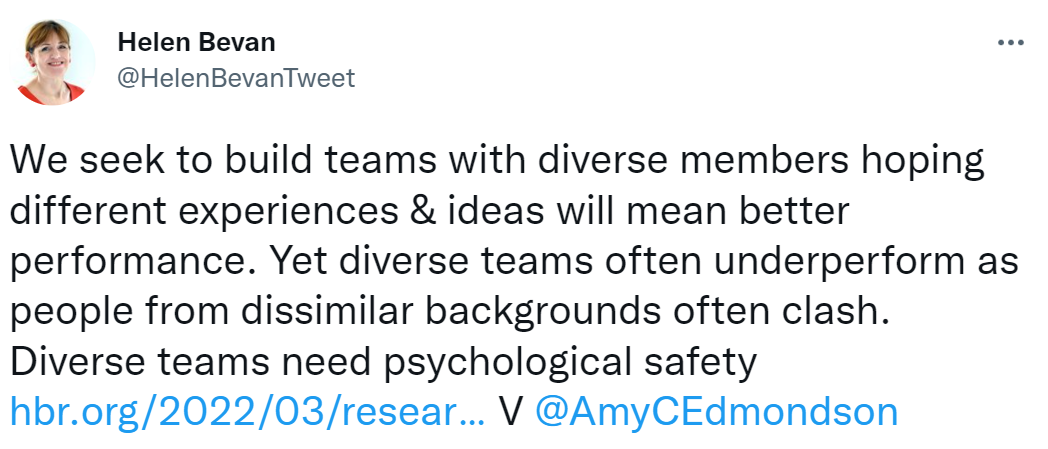 Many leaders seeking transformational change think they need to communicate or persuade others. The reality is change is always built on common ground and you have to identify shared values to move things forward, even with your biggest critics. Click here to read 'Adopting A Changemaker Mindset' from Digital Tonto for more insight on this.
We might be part of a system where everyone is contained within their department, specialty or directorate which makes collaboration hard. Yet we can choose not to be a silo in the way we work and connect with others. Thank you @woodard_julie for a brilliant graphic!
A big shift is occurring in thinking about the dynamics of leadership power and our relationship to power. It's from 'power over' motivated by scarcity or fear tactics to 'power with', built on collective strength, collaboration and relationships. Click here to read 'The changing dynamic of power in leadership' for more information.
As leaders of change, we need to move away from a picture of the future based on limited steps from the present (forecasting) & explore multiple possible futures (foresight). Here's a great piece from @PaulIanTaylor on the power of strategic foresight. Click here to read 'Strategic Foresight and Escaping the Tyranny of the Present' from @PaulIanTaylor.
Helen is reading The Voltage Effect by @Econ_4_Everyone on the scale and spread of change. Most projects experience voltage drops, when promising ideas lose power as they are scaled. It made Helen think about what she agrees or disagrees with and gave her some new perspectives. Click here for a link to find out more about the book.
Helen is a big fan of @Annasquestions and regularly uses her methods for system change in her practice. Anna has helpfully put all her articles together in a single place. What a treasure trove of system change methods! Click here to find out more about @Annasquestions and her methods. The graphic in the tweet is from a piece on capabilities.
The value of being a generalist. Generalists are:
Surpass specialists later on, even if they start slower
Flex different muscles
Find the right fit
Have a better toolbox for problem solving
Can be stronger applicants
Adapt better
Find out more by clicking here to read 'Generalist vs. Specialist: Choosing a Path for Career Success' from Ideo.
"Make Operations your secret weapon". In praise of Chief Operating Officers and others in operational leadership roles. This article is written for start-ups considering their first COOs but there's content relevant for others contexts. Click here to read the article.
Upcoming events
How do we make sense of our complex health systems so we can make the best decisions for patients?
Join this series of webinars for ICSs and NHS staff to find out! Places are still available, click here to find out more.
And finally...
This week it was officially the start of Spring 2022 in the Northern Hemisphere, where light finally balances dark. It's a positive sign and a positive time; it's what we need and what we can aspire to, on so many different levels. Thank you for the beautiful graphic @positivelypresent.