The Horizons team features many influential Twitter users. This curates a wealth of insights, knowledge, and information about transformation in health and care from other thought leaders across the world. (Tip: to read an article or watch a video mentioned in a tweet, click on the blue text. To view the original tweet, click on the image).
#Caring4NHSPeople
You're welcome to attend July's #Caring4NHSPeople session, Wednesday 14 July 4pm to 5pm which will be about retaining #OurNHSPeople beyond the pandemic. Joining details are here.
NHS' 73rd Birthday
Helen's mum Beryl Bevan was a NHS Domestic Assistant for 30 years. It's her 31st year working for the NHS. Helen is proud to be part of a family tradition working for our national treasure. Happy 73rd birthday NHS. Here's to many, many more NHS birthdays #NHSBirthday #100RepeatTweets no.34
Chief People Officer Prerana Issar tweeted that it felt like our entire nation came together last week @StPaulsLondon . Inspiring words by The Right Reverend and right honourable Dame Sarah Mullally, Bishop of London: "One of the bravest things you and I will do in the coming weeks and months is to say "help". Find out more about wellbeing support available for Our NHS People.
Covid
There are three circumstances when Bev will #WearAMask
: 1. Any indoors situation that's crowded or in close proximity to others 2. If requested to by any competent authority 3. If someone was uncomfortable if I didn't wear a mask" @CMO_England Watch the video featuring Chris Whitty
Psychological Safety
Tips for achieving psychological safety by @lizandmollie (from fab Emotions at Work book). Also: see guide to creating psychological safety by @HorizonsNHS et al
Here are three super activities for building collaboration and psychological safety in your team as well as range of other collaboration resources from @ideo
Patient Experience and Co-Production
Join National Voices for a Twitter Q&A, Wednesday 14 July, 11am to 12pm. @RHMreflects and @keymn1 will be answering your questions on co-production and sharing their approaches and how these are influencing their work. Ask questions by tagging @NVTweeting and using the hashtag #AskNV.
NHS Leadership Academy are looking for people to tell their story of NHS #PatientExperience and become a powerful part of our leadership learning programmes. Sharing your experience can help leaders learn and improve health care. Find out more.
Time management - and wellbeing
Researchers at MIT have questioned whether SMART goals (specific, measurable, achievable, realistic, time-bound) actually work. They suggest we might get better outcomes if we make our goals FAST not SMART: Via @mitsmr @Haypsych #100Repeat Tweets no. 33. Read the post.
Experts in time management are often telling us to analyse our tasks, separate the urgent from the important, focus on the high impact tasks etc. I suspect that many of us who follow this advice end up doing this. Thank you @_workchronicles
Of course we don't have this mindset amongst the leadership community in health and care. Another cartoon from @_workchronicles that gets painfully close to a lot of people's realities.
Those of us who have been mostly working virtually from home for the past 16 months have been visited many times by the four horsepeople of procrastination.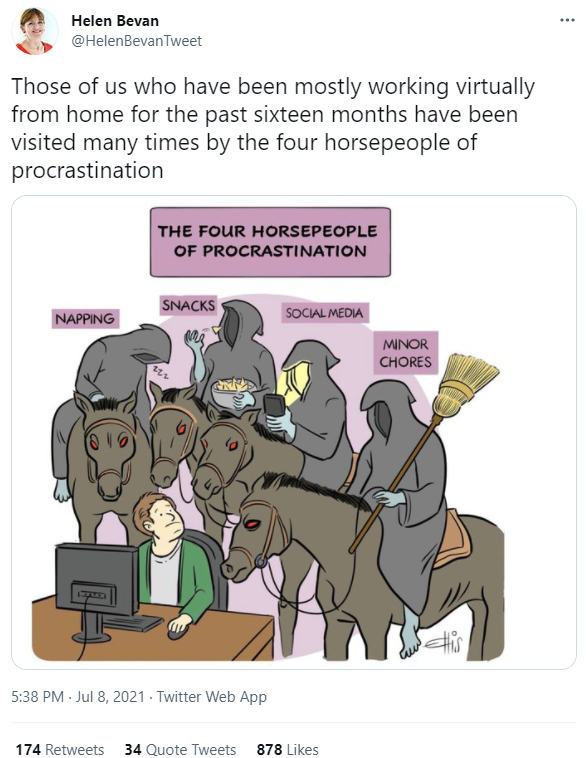 Change
The secret to leading organisational change is empathy. As leaders we can help everyone feel like an active participant in change, seeking perspectives & fears about change & addressing them openly: via @gcorous graphic: @impactwales #100repeattweets no.32
"Change the story & you can change the future". A free guide to using story/narrative in systems change. Story can be a powerful tool that brings people together with a shared purpose & understanding & enables them to work together. Thanks @Sys_innovation
Helen has used these 10 (free) "change cards" from @BainAlerts a few times. They're useful for creating discussion with your leadership team when you're setting up a change initiative (eg, elective recovery, new care pathways) & you want to broaden thinking.
Science is complex and as we know from Covid, communicating complex science well is crucial. Fab sketchnote by @scriberian shows how to bring the science alive.
The QI Evidence Update is always jam-packed full of vital #QI research and news. Here's the July issue - with thanks to @improvjess @andreadgibbons
Leadership
Employee activism is becoming core to workplace life. Four actions for leaders: 1) Build empathy/respect for others' views 2) invite different perspectives into the leadership fold 3) accept mistakes gracefully 4) teach people how to disagree: Read the post by @MeganReitz1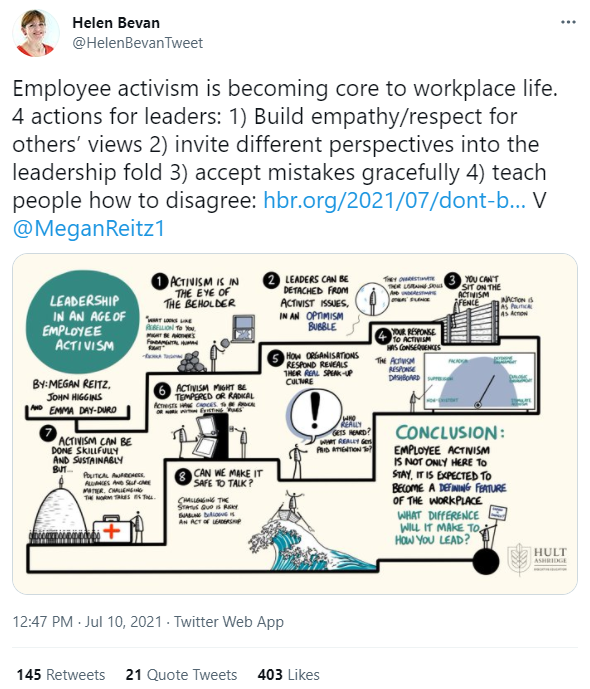 If you work creatively (design learning, write or code etc) & you struggle to manage your time working in a large organisation, it may be because you're a "maker" & you find yourself working to a "manager" schedule: Read the post v @sketchplanator #100RepeatTweets no.31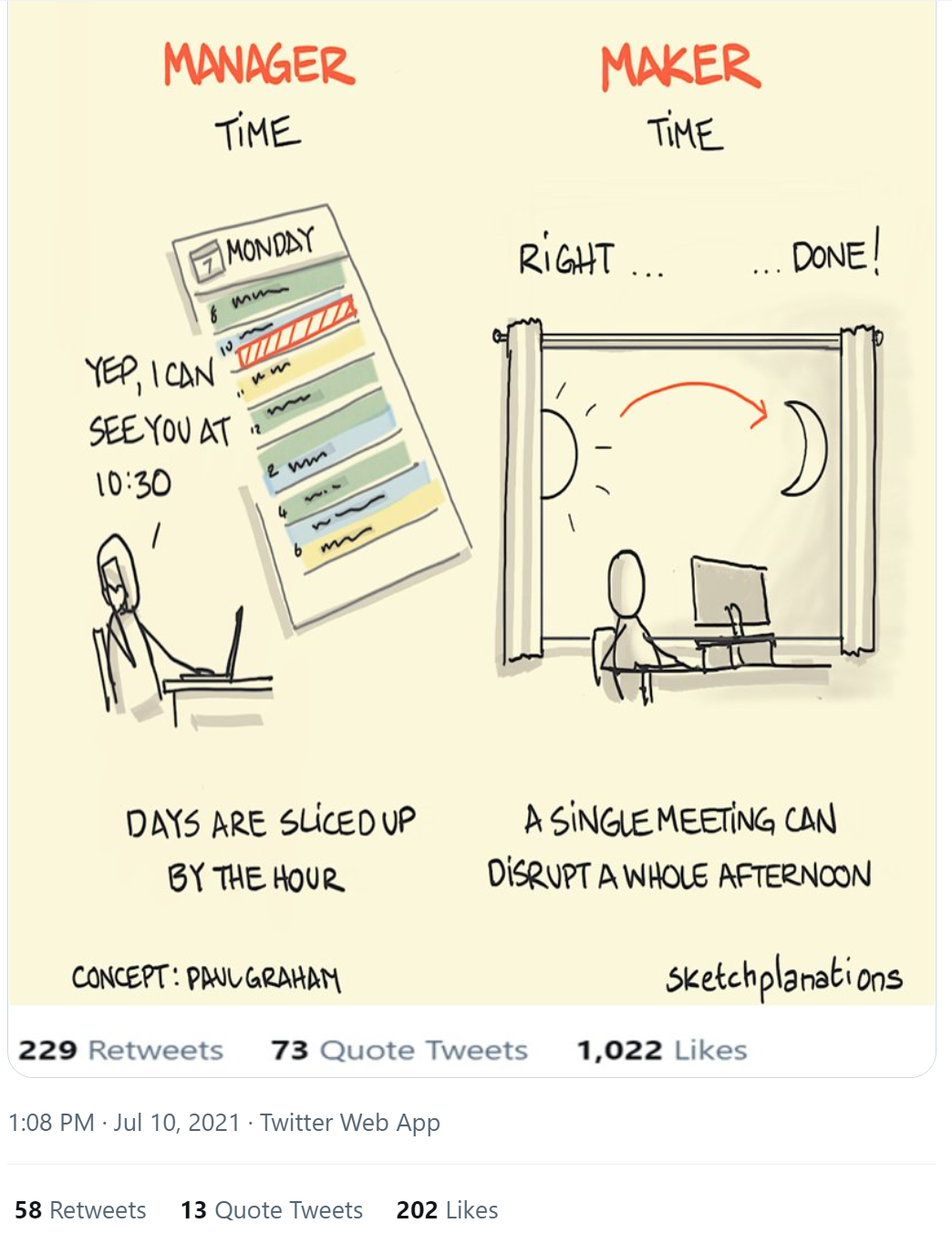 And finally...
We said a fond farewell to our colleague Zarah, who is leaving Horizons to join a new role at the NHS Race and Health Observatory. Good luck Zarah, we'll miss you!