The Horizons team features many influential Twitter users. This curates a wealth of insights, knowledge, and information about transformation in health and care from other thought leaders across the world. (Tip: to read an article or watch a video mentioned in a tweet, click on the blue text. To view the original tweet, click on the image).
#Caring4NHSPeople
This week more than 600 people joined us on the wellbeing webinar about how we support our BAME colleagues now and beyond Covid-19.
You can watch the full session here. You can also click on the picture below to read the thread which includes key highlights from the session.
Join us next Wednesday, 6 May at 4pm for a session about the health and wellbeing of a newly remote workforce. More information available here.
#VirtualCollaborate
Great tips from Harvard Business Review and Scriberian for a fab virtual meeting.
People are more likely to behave badly during virtual meetings. Neuroscientists call it the "online disinhibition effect". Find out how you can overcome it.
Helen posed a few questions to everyone starting another week of virtual working. What are the priorities for the day/week? Find more of @voinone graphics here.
A survey of people who facilitate workshops/conferences conducted by Session Lab. Zoom is the platform of choice (as it offers virtual breakout rooms).
This week Helen took part in a virtual meeting of leaders of health and care improvement from across the globe, collaborating to learn together and help create a new future thanks to Quality Forum.
Bev showcased virtual collaboration functionality during the session (this is JamBoard).
In the last two days of April, Helen facilitated or helped lead four major virtual events involving more than 1,200 people. All were interactive to different degrees inc breakout rooms, polls, annotations, document co creation and virtual post-it note brainstorming via JamBoard.
#TestingMethods2020
This week Horizons facilitated a webinar for the NHS Pathology community about the COVID testing and idea sourcing platform.
Diversity and Inclusion
Studies show that having greater diversity in a team can lead to better outcomes. However, we need leadership for inclusion based on trust to bring the range of unique perspectives.
Leadership
Most leaders are thinking about the 'new normal' post Covid-19. It is also time to think about HOW we make change happen, including about "resistance to change".
Leading change is all about being as much as about doing.
Innovation
There have been so many innovations put into place as part of the Covid-19 response. We need to capture the learning and build on them, so we can keep innovating into the future.
A great model for making sense of practices we started and stopped during Covid-19.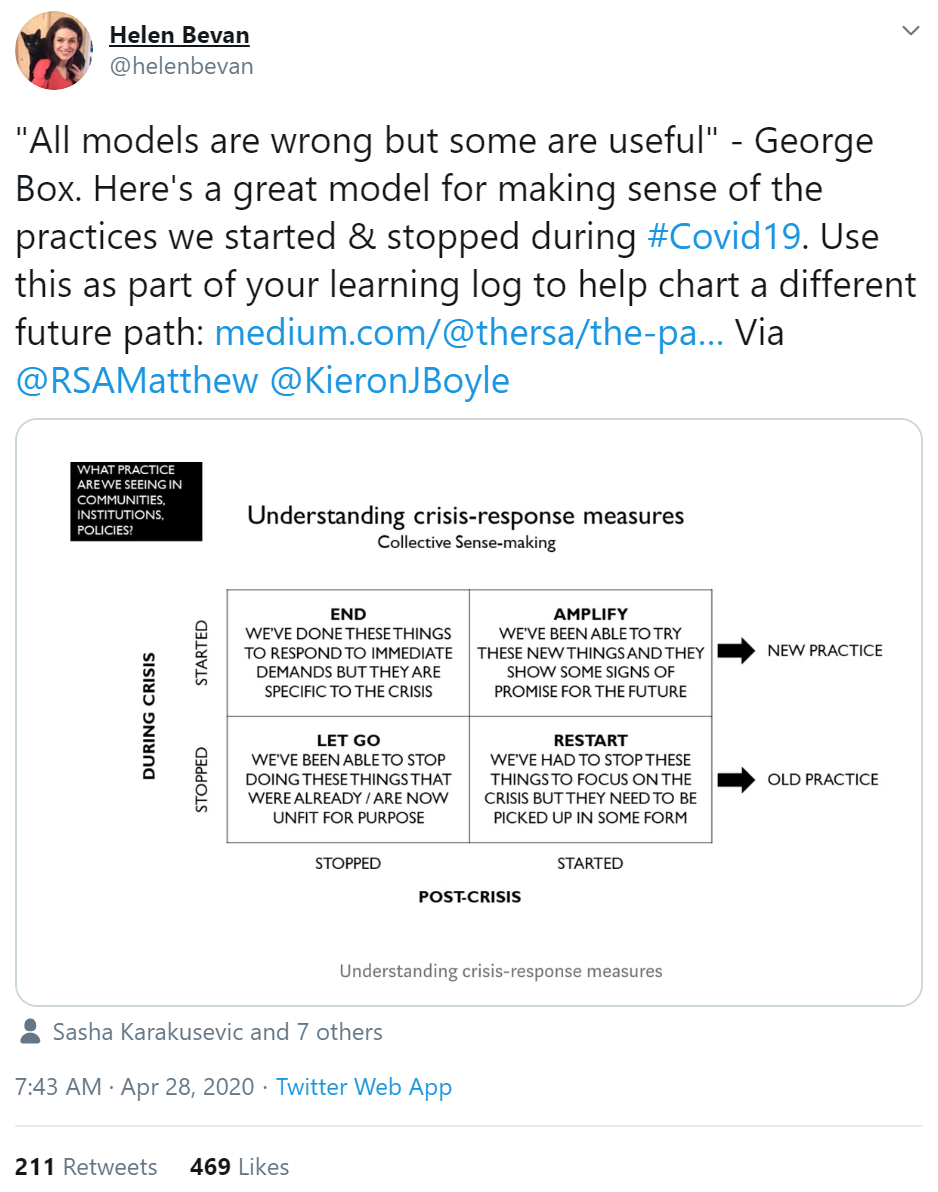 Communication
There was a great response to Helen's tweet about metaphors used during Covid-19. The table posted is from The Workshop, who offer brilliant, free, values-driven advice on communicating about/during the pandemic.
Leigh shared that as a comms pro a bugbear is when people say their target audience is 'everyone'. When it comes to networks small and powerful is better than big and weak.
We know that in a crisis clear, consistent communication is crucial. How to maintain that when a situation is constantly evolving?
And Finally...
Helen shared a graphic that gave her a laugh this week!