The Horizons team features many influential Twitter users. This curates a wealth of insights, knowledge, and information about transformation in health and care from other thought leaders across the world. (Tip: to read an article or watch a video mentioned in a tweet, click on the red text. To view the original tweet, click on the image).
#ProjectA
On Monday 28th January, ambulance services across the country gathered in London for our #Project A event, focusing on improving the response to people who experience falls. Participants travelled from all over the country to attend. Below is a very small sample of the tweets sent on the day. Please see #ProjectA for more!
Some participants had a very early start!
We had a completely full house - thank you again to everyone who took the time to attend.
There was some brilliant sharing between participants from different trusts.
We're grateful to the team from the Wales Ambulance Service for sharing their falls framework.
Keep the patient as the focus; and talk more, learn more, do more, share more!
The community appreciates the hard work by ambulance staff!
The day ended with a 'snowstorm' and 'volcano' - people sharing their thoughts on the day, and pledges for action.
You can find out more about the falls event in Ian's post:
It's not long until our next event, join us on 14th February if you're interested in the topic of mental health. Find out more.
It's great to see the Wales Ambulance Service sharing a visual update on all the #ProjectA workstreams with their staff.
We need our front line staff to share their wisdom together for a better ambulance service, please keep following and participating in #ProjectA!
Nursing Now England
We facilitated a Learning Disability Nursing Roundtable this week. There was great discussion about the needs of people with learning disabilities and their families and how we shape a workforce that responds to these needs. Thank you to everyone who took part. This is just the start of the journey - Find out how to get involved, and sign up as an Ambassador!
The event was facilitated by Helen:
Paul Vaughan spoke about the importance of the perceptions of learning disabilities nursing:
Thank you to @WeLDNurses for their brilliant live tweeting during the event.
Participants used transformation cards to show their journey as learning disabilities nurses - past, present, and future.
The TRIZ activity - where participants talked about how they would deliberately design a system so that learning disabilities nursing became an undervalued, misunderstood, and marginalised profession brought lots of lively conversation!
Participants made collages to show where learning disabilities nursing is now, and where they would like it to be in the future.
The afternoon featured an 'Unconference' - participants working on issues identified from the morning sessions.
25/10 crowdsourcing helped identify the Unconference topics.
Action plans are crucial!
"We do have a voice, we just need to find a place for our voice to be heard."
Participants chose words that represent learning disabilities now and the future:
The words represented in a wordle:
A challenge to directors of nursing and what they are doing to encourage learning disability nurses in their organisations.
Thank you to everyone who attended!
It's official! 2020 is going to be 'Year of the Nurse'!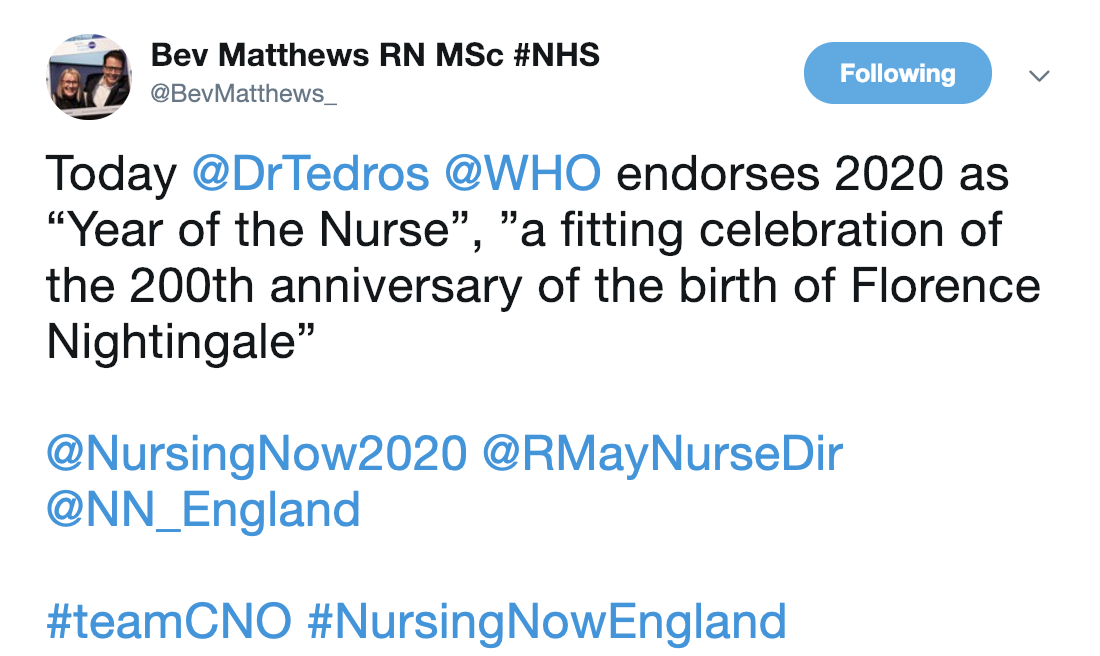 Our ambassadors have been doing great work in their local communities, visiting schools to chat with young people about the opportunities available in a nursing career, as part of the January 30 Day Challenge. Check out what they've been up to and get inspired! Download a resource pack.
Gender-neutral mini-uniforms for children were launched during a recent school visit. The uniforms are part of a message to show that girls AND boys can be nurses!
The mini uniforms also provide a fab resource for nurses' conversations with children and young people about choosing nursing as a career. Here's Chief Nursing Officer Ruth May chatting with the children during the event.
This thread explains more about the uniforms:
Ambassadors at East Lancashire Hospitals held an event this week to show colleagues how they can make a difference to nursing.
This article tells us the current status of men in nursing, hopefully our campaign will make a difference to this number in 10 years!
More reasons to change the perceptions of nursing.
Transforming Perceptions of Midwifery
It's great to see people are still buzzing from Transforming Perceptions of Midwifery event a week on!
If you'd like to be involved in transforming the perceptions of midwifery please sign up as an ambassador.
The coming era is the 'age of imagination' when film-based platforms will change the way humans interact with each other. Here are the outputs from 100 midwives during last week's launch event.
Leadership and Teams
Do you manage a team? Read this insightful blog from @Haypsych on actions that managers can take to improve the performance of their team.
When it comes to collaborative work (eg systems leadership), a common challenge is that people want to move straight to action and they shortcut the foundational work of building relationships, aligning work and learning together. Here are some fruits of collaboration for you.
How leaders can tackle the destructive consequences of toxicity in teams by understanding the causes through the lens of complex systems. This article is written for a health and care context but more widely applicable.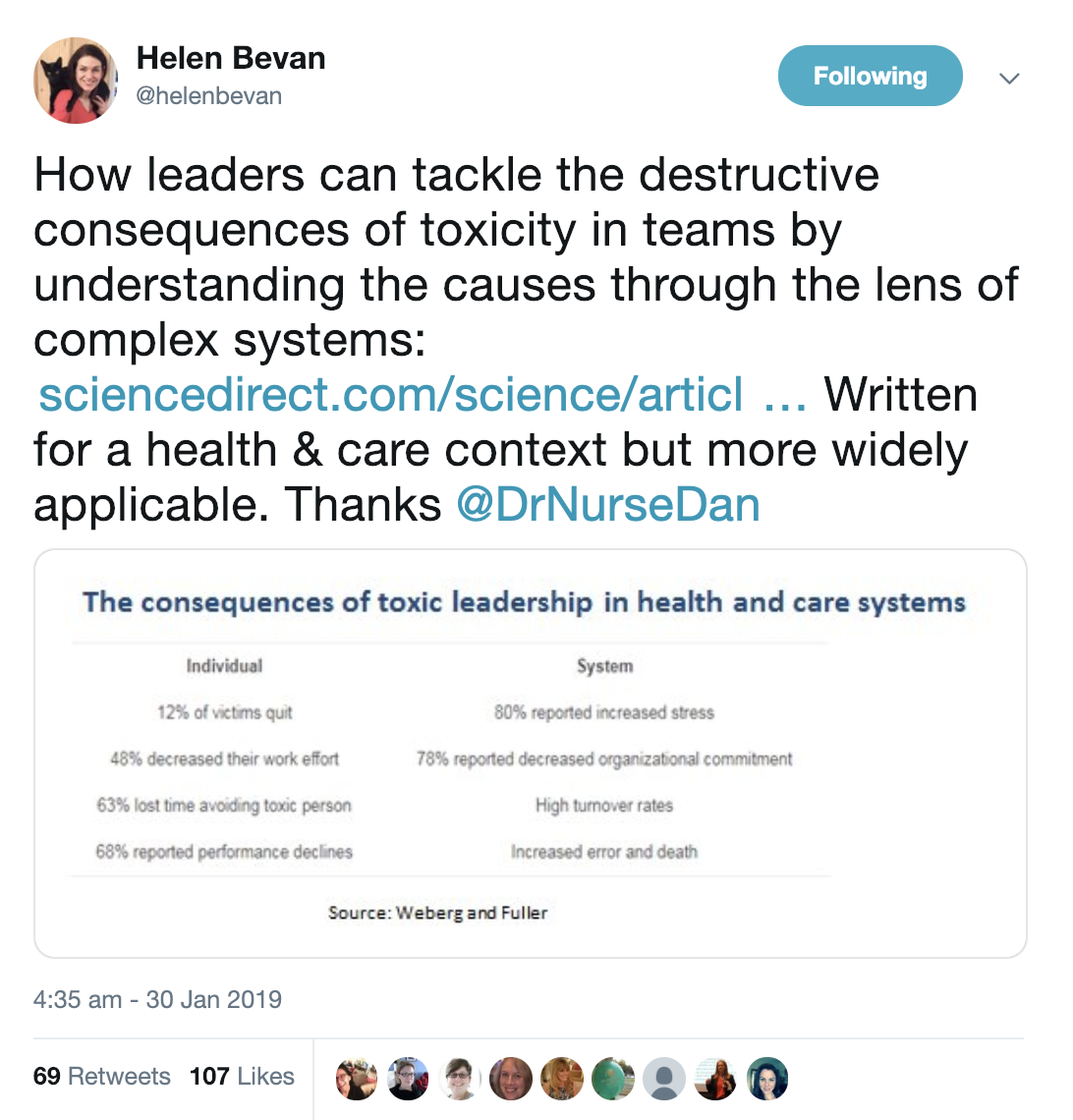 Why following management "best practices" is probably a bad idea:
Why motivating your team around achievable goals, milestones and small wins is so important:
Over the next five years, the role of the corporate centre/headquarters fuction/the "C Suite" in organisations is going to change dramatically. Read more on the Next-Generation Corporate Center.
Change and Improvement
A good use of social proof: focus the message on those who do the correct behaviour rather than those who don't.
Here's a great challenge to current thinking about redesigning/transforminging health and care. It's not enough to say we must wrap services around the person/service user. Rather, we must take a step back to allow the person to step forward. If We Want Different Relationships, The Doing Must Be New And Different Too.
Time for a behavioural revolution in innovation! These authors understand that a strategic narrative doesn't mean a timeline and a set of bullet points like many leaders present it. It's a story, with characters, conflict and resolution.
Some simple tips for consistent follow-up and follow-through to maximise your efforts.
Helen's been reading about corporate sector approaches to move innovations from start-up to scale-up. They aren't always directly applicable to scaling health and care improvements but show how much strategic intent/effort has to go into scaling. Here are 4 Tips for Intrapreneurs Who Want to Scale-Up.
In designing a meeting or workshop, are you lighting a candle or filling a bucket? We often pack out events with speakers and presentations. This isn't a great way to spark people's motivation, build will or call people to action. We should design meetings that could do more.
Ten of the most widely believed myths in popular psychology, ranging from "we learn more effectively when taught via our preferred learning style" to "Neurolinguistic Programming (NLP) is scientific".
Lots of good stuff is happening in the world...
Digital influence
Did you know that shifting your conversations from email to more collaborative tools like Groupchats or ESNs can increase your productivity by 20%?
As our relationship with the digital world grows, will we learn ways to avoid persuasive attempts?
And Finally...
Plaudits for Horizons' Head of Transformation Zoe Lord, ahead of the upcoming International Women's Day.